Angela Wright receives EMCC 2018 Award for Coaching Supervision
Angela Wright receives EMCC 2018 Award for Coaching Supervision
April 24-26, 2019  |  Dublin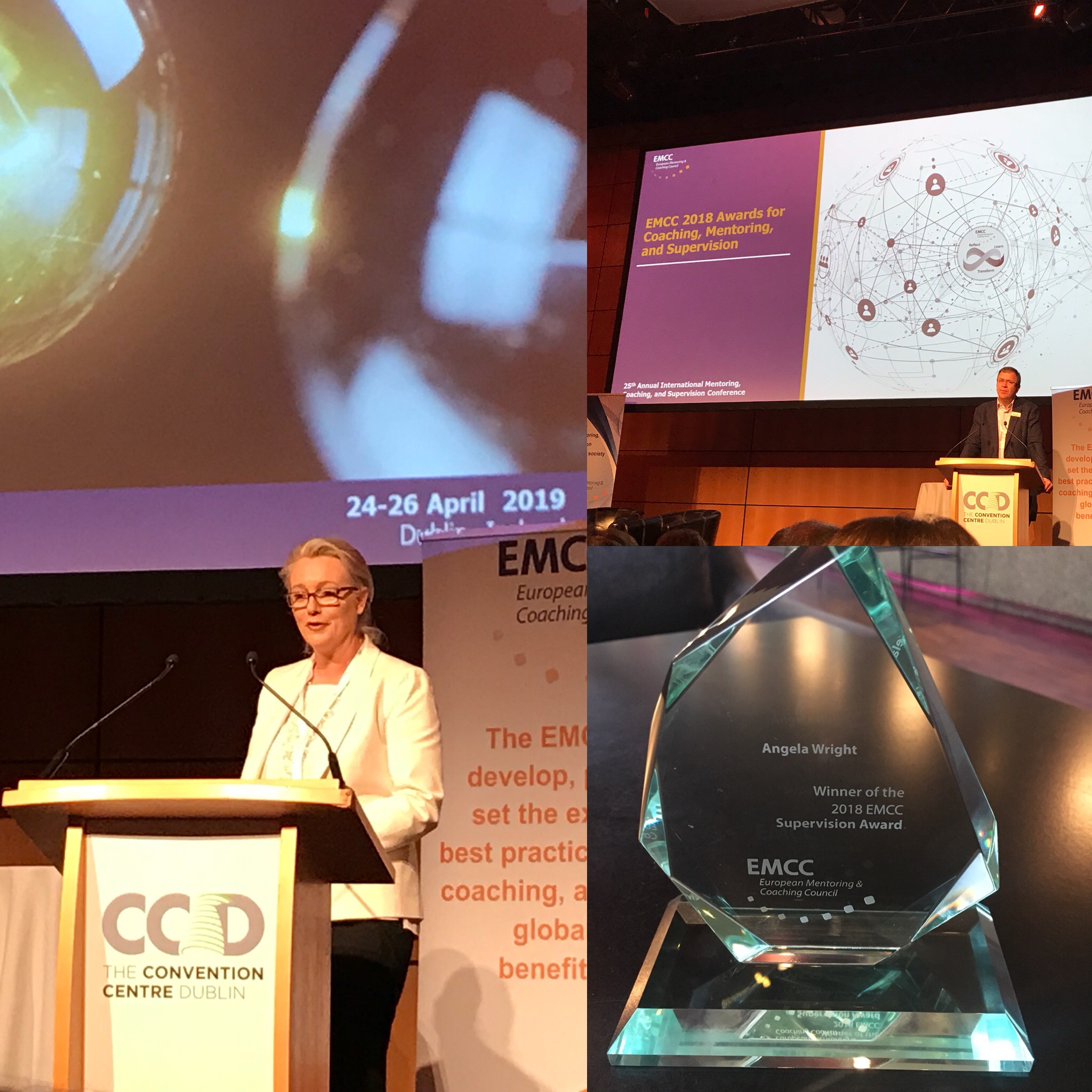 Angela Wright was in Dublin this week to receive a Supervision Award from the EMCC at their Annual Conference.
EMCC presents three awards annual for Coaching, Mentoring and Supervision. Dr Riza Kadilar, EMCC President, said of the award winners 'This year's nominations have been of a high calibre making the work of the selection panels that I chaired difficult though very rewarding. Congratulations to everyone nominated and especially the winners.' Angela shares the award with Professor Tatiana Bachkirova and Eve Turner.
Angela said: 'I feel honoured and humbled to receive this award from such a highly regarded organisation as EMCC, whose purpose and vision are so closely aligned with my own. On a personal level, this feels like a milestone in my own journey from a lawyer to coach and coach supervisor, which started over 10 years ago."
She acknowledged the wide network of people who have supported and motivated her: "including my amazing supervisors and supervisees, the wonderful members of our supervision groups, and the enthusiastic coaches who participated in the recent coaching supervision research project. Your openness and generosity provide the impetus and energy for this work."
"Thank you doesn't even come close to describing the gratitude I feel towards my teachers, mentors, colleagues, and friends at the University of Sydney, who opened up this world to me, and inspire me to be more, and do more, every day. Finally, I'd like to thank my teachers and 'my tribe' and Oxford Brookes University in the UK, whose wisdom, guidance and humour I cherish.'
About EMCC
The EMCC is an international coaching, mentoring and supervision association established in 1992. EMCC has over 5,000 members across more than 70 countries world-wide. EMCC exists to develop, promote and set the expectation of best practice in mentoring, coaching, and supervision globally for the benefit of society. The EMCC vision is to be the 'go to' body in mentoring, coaching, and supervision.
For more information on EMCC visit www.emccouncil.org +1 646 266 2433
info@coachingedgeglobal.com